New Cancer Research Compounds
The cancer research community spoke, and we listened! Reagency has posted five unique and cutting-edge compounds chosen by leading scientists from the most up-to-date literature. Place your order now before the deal expires and be the first to receive these compounds and accelerate your research.

Reagency is a completely new way of buying reagents. Our members submit hot new compounds, and Reagency pools our community's orders. If there's enough interest, we make the compounds and you get a fantastic deal. It doesn't cost you anything If the offer expires.


JAK 2 Inhibitor NMS-P953 ($450 AUD/10mg)


NMS-P953 is a novel, potent and orally bioavailable JAK2 inhibitor with selectivity over other JAK family members (JAK3 5-fold, TYK2 24-fold and JAK1 110-fold).



MPS/TTK Inhibitor ($495 AUD/10mg)


RGNCY-0015 a potent and selective inhibitor of MPS1 Targeting these kinases has shown efficacy in treating xenograft tumor models in mice. (IC50 = 0.53 µM) and AurA (IC50 = 0.152 µM).



Glucocorticoid Resistance Inhibitor ($150 AUD/10mg)


This compound (J9) was selected for its lead-like properties at restoring sensitivity to glucocorticoid resistant T-ALL cells (CUTLL1 cell line) through the upregulation of the glucocorticoid receptor.



CD532 ($450 AUD/10mg)


CD532 disrupts the normal confirmation of Aurora A (IC50 = 48nM), driving the degradation of MYCN protein in MYCN-driven cancers. This degradation has been shown to be cytotoxic in MYCN-amplified neuroblastoma cells and has been demonstrated as effective in vivo.



CDK2/4 Inhibitor ($350 AUD/10mg)


This is a potent inhibitor of CDK 2 (IC50 = 0.159uM) and CDK4 (IC50 = 0.0038uM) in addition to activity against ARK5, FGFR1, PDGFRb, and PI3K-d. RGNCY-0009 has demonstrated a GI50 of 0.025 uM for both Granta-519 and mantle cell lymphoma cell lines.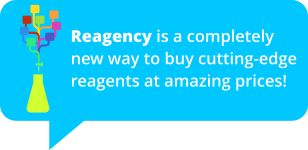 We hope that you'll join the Reagency community and help spread the word. The larger our community, the lower the costs for you.


Published at November 21, 2014 13:27